Blast Resistant Doors - Pressure Resistant Doors
---
High Security Blast and pressure resistant doors combined with ballistic protection save people and property from explosions and shrapnel. A properly specified and engineered door can save lives by preventing the devastating shrapnel caused by a blast from entering an area. Blast resistant doors from 1psi - 50 psi with quick lead times.
---
---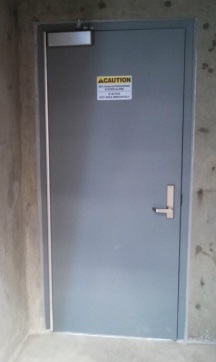 Pre-Engineered Blast Door Models

Series VLRB (Very Low Range Blast), LRB (Low Range Blast) and MRB (Mid Range Blast)


High Range Blast Doors

Due to the unique nature of some projects, a pre-engineered model is not always the best selection. Often, a custom design is required. That is where we come in. Our engineers can help custom design a product to meet your most demanding applications

Doors can be manufactured up to 4'-0" x 8'-0" singles. Custom sizes available.

---
---
All of our Blast resistant doors and frames are designed by certified engineers. You will receive a submittal package with shop drawings, showing design and specs for door, frame and hardware location. Lead time is 5-6 weeks once we receive the signed off drawings then we can complete the fabrication process.
---
Decorative Blast Resistant Doors and Frames with Bullet Resistant UL 752 Levels 1-6 Protection
High security doors discreetly incorporate blast resistance, bullet resistance with sound control all in a flush or decorative panel.