Residential Security Doors
---
Forced Entry and Burglary resistant security doors for your Home-Condo or APARTMENT
---
Stylish steel security doors with many decorative wood cladding options available. Interior and exterior security doors with multi-point locking and high security cylinders that are pick and drill resistant.
---
---
Embassy Series

Designed for locations at risk of burglary or forced entry

The Embassy Series is designed to help create a secure environment for locations with elevated threat profiles or security challenges. Its 3-inch thick door leaf, patented design, and unique security features are the result of years of research and development. It was tested at NTS Chesapeake in Belcamp, MD to the State Department (DoS) forced entry standard SD STD. 01.01 Rev. G and achieved a five minute forced entry rating. It was also tested at the IFT Rosenheim laboratory in Germany and was awarded a Security Class 3 (RC 3) rating according to European standard EN 1627.

​The EMBASSY SERIES comes with the following features:

1. Armored locks encased in drill resistant manganese plates to prevent manipulation. Optional motorized lock with biometric fingerprint scanner, GSM controller, and other high-tech access control capabilities.

2. High security cylinders with unique key management options.

3. Adjustable security hinges designed to easily adjust at installation.

4. A multi-point locking system that secures the door utilizing bolts on the lock side, top and bottom, and hinge side. This includes:

· Ten bolts on the latch side.
· One bolt into the header of the frame and one into the threshold.
· Four 16mm diameter stationary locking bolts on the hinge side.

5. Superior heat and sound insulation thanks to a 6cm layer of rock wool.

6. Virtually unlimited range of architectural designs, millings, glazing's and colors for the finishing panels to create a door that is both highly secure and beautiful.

7. An L-shaped doorframe profile which is fixed into the structural opening with 16 screws and protected by 24mm steel liners.


---
EMBASSY SERIES FORCED ENTRY TEST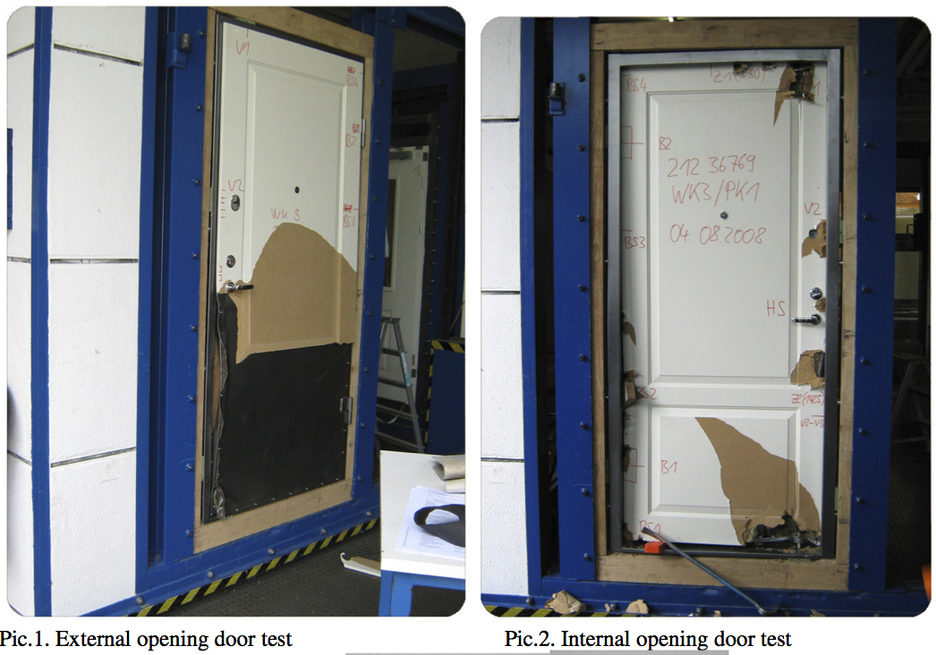 Certified against forced entry on both an In-swing and Out-swing door.
---